Surfin' Safari
April 27, 2019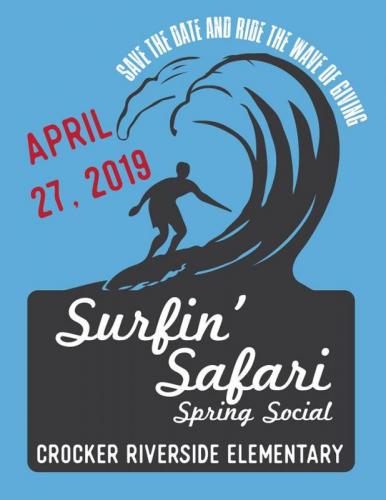 It's not too early to mark your calendars and start planning to for our Surfin' Safari fundraiser. The Spring Social is the biggest parents-only social event of the year. More importantly, it is one of the largest fundraisers for the school. 
The money raised supports a breadth of educational programs for all Crocker/Riverside students including classroom enrichment, field trips, and music, science, computer, and arts programs. Funds raised at this year's event will ensure that these programs can continue — and potentially even expand — next year!
How can you help? 
Sponsorships Still Available!
Please see attached Sponsorship level investments and benefits. If you have any questions, please contact our Sponsorship Chair, Kelly Fugina at kellyfugina@gmail.com or 916/201-4663
Donate an Auction Item
We are hoping that all of you can help to make this our most successful auction ever and ensure there are fabulous items for attendees to bid on. Some donation ideas:
Donate a vacation home, timeshare points, airline miles or credit card points to be used toward a Live Auction vacation package. 
Donate tickets to anything at the Golden One Center.
Donate a gift certificate for a Private Dinner for four or more at a great local restaurant.
Donate a private party at your home or another location for a group. The parties are always hugely popular. Some examples from prior years include: The Crush Bus, Cornhole, Blind Vine and the Halloween Family Dance.
Donate a tasting at one of your favorite wineries.
Donate gift certificates to summer camps, gyms, or other fun kid friendly activities. 
Donate art, jewelry, sports memorabilia, or other specialty tangible items.
Donate wine of $20.00 value or higher for our Wall of Wine.
Donate funds directly to our auction to help complete baskets and Live Auction packages. 
If you have any question, please feel free to contact Nancy Knowdell, the Donations Chair by email at nancyknowdell@sbcglobal.net or via the Konstella Directory.
For questions on family-hosted parties, please contact Seiko Monahan at sdoshima@yahoo.com.
The importance of our Spring Social
Below are some facts about our current level of school funding from the district and why your support is critical to maintaining the school's mission of academic excellence.
The PTO covers over 50% of the school's operating budget, excluding staff compensation.
Out of 47 elementary schools in Sacramento, Crocker/Riverside is ranked last in spending by the school district.
Your donation helps us maintain essential programs that are supported by the PTO including school wide enrichment, classroom support, music, art, and technology programs at Crocker/Riverside. All of the programs are 100% funded by the PTO.
Any support for Crocker/Riverside's students and public education is greatly appreciated.

Your Sponsorship donation is tax deductible. Crocker/Riverside PTO is a 501c3 organization. Tax ID #82-1722765.